Well, I thought this next post from a camper would be well timed since he actually uses the words Merry Christmas in his email of which I am simply going to copy and paste.
I have to admit, this next one had me feeling all the feels.  Especially feeling grateful for my husband and his heart for others.  Which is the main thing that attracted me to him in the first place.  He is so giving and generous.
Hello Jackie
Several years ago we stopped at the KOA in Brighton as we were passing through. You and Jason were not the owners then but the area was very pretty and we noted it as someplace we would return to again.
As fate would have it our daughter was accepted to Loyalist College in Belleville in 2016 and your KOA was very convenient when we were getting her settled.
Now my story is from Sunday September 4th, 2016 (Labour day weekend). We had decided to spend our last weekend with our daughter, camping at the KOA, before we sent her off to college life. The weather was fantastic and we were having a wonderful time.
On Sunday morning my wife told me, as she often does, that the holding tanks needed dumping. So after my morning coffee I went out and dumped the tanks. The problem arose when I tried to close the black water valve and it would not cooperate. It seemed like something was jammed and would not let the valve close. So I donned my rubber gloves and found a piece of wire and tried to dislodge whatever was causing the blockage.
After much frustration  and a few curse words, I conceded defeat and removed my rubber gloves and went to the KOA office with hopes of getting a telephone number for an RV service repair man to help me out.
The young lady at the desk told me that she would get Jason to come and talk with me. A short time later Jason arrived in his golf cart and we discussed my problem. He gave me the number for an RV service shop but said he was not sure if they worked on holiday weekends. He also told me that he had an attachment to connect a hose to flush the black tank out that he does not use and he said I could borrow it and give that a try.
I accepted his gracious offer and he returned with the attachment a short time later. When all was said and done, my blockage was cleared and I told Jason that I would be happy to buy the attachment he had loaned me, since by that point, it was far from being new. Jason replied, "Merry Christmas. It's yours, don't worry about it."
From that point I was sold on The Brighton KOA.
We were back several times during the fall of 2016. Fall is our favorite time to camp and I have attached a photo we took from site C6 on September 22. It wasn't busy that day but it sure was pretty.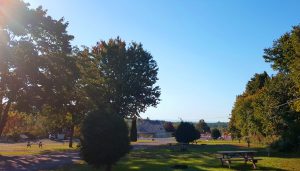 Will we be back in 2017? You can count on it!!
I was overjoyed when I read this email and so totally excited to give this camper a gift card when they next come camping to use on either camping or in the store.
Thank you for your submission.  I have a few new ones since my last post, but there are a lot of weeks until we open and I will run this as long as I have new emails to include in my blogs.
As a reminder, we are filling up for the Opening Care Camps weekend, May Long weekend, and the Mothers Day Care Camps weekend.  We are offering Leave Your Rig from Opening weekend all the way till July 1st weekend for $20 per week as long as you have back to back weekends booked for camping.  BOOK NOW online or call me at 613-475-2186..
Merry Christmas to all our loyal campers.  Please know that we appreciate you immensely and give thanks for you often.  You are always in our prayers!
With love, Jackie.