I honestly love my job.  Getting to know campers and watch their kids run around having fun all summer is one of the best ways to make a living I could ever imagine.  It's hard work and long hours during the season but I'm such a people person that it truly is the perfect fit for me and our family.
This next contest submission is from a family I absolutely love seeing.  They came by to visit me at the Toronto RV show recently and it just made me all the more impatient for the season to get started.  You'd think after 6 months straight of 14-16 hour days with very few days off (only when I snuck off for the Tragically Hip concert) I'd be happy to prolong the break.  I am truly loving all the time I get to spend with my kids during this break time – but the rest of the time I'm bored silly and can't wait to get back to "play".
This family started camping at the Brighton KOA before we took over as new owners.  They felt that their kids were "growing up faster than we wanted to admit" so they decided to start camping to create some quality family time.  They started year one in a tent trailer and after camping turned out to be a huge hit, upgraded to a bigger trailer the following year.  "One with a bathroom……Ahhhhh".
They started a tradition of opening the camping season at the Brighton KOA and once we had added the Big Bouncer they spent a ton more time here than just the beginning of the season.  Quoting from her email "the kids literally spend all day on it if we let them and we love it because it means by the time they eat dinner they are usually falling asleep at the table from jumping all day."  You can see in these pictures that the kids aren't the only ones jumping on it!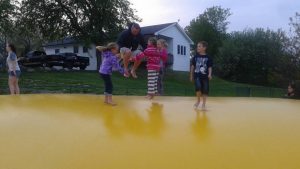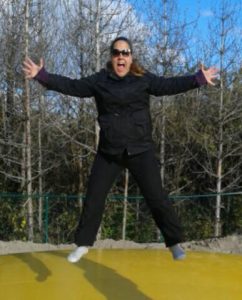 The kids enjoy wagon rides, swimming in the pool, ice cream social, scavenger hunts, movie nights and all the fun stuff we plan for kids at the KOA.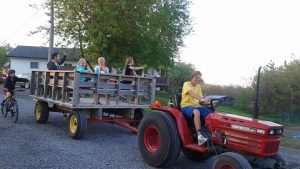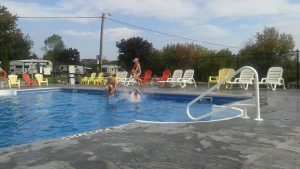 In her words, "Our absolute favourite was Halloween in the park this year. The kids are still talking about the awesome jack o lantern display, and how the tractor "broke down" and we had to run through the scary zombie trail! ( where by the way the entire group put the biggest chicken -me, at the head of the pack)".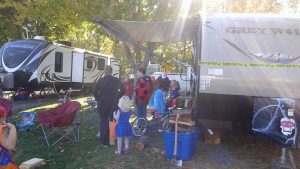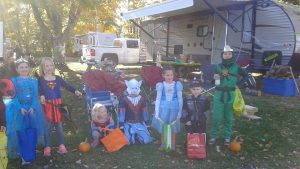 It warms my heart to read of all the joy we are bringing to families.  I know this woman was smart and booked her camping trips early.  We are filling up really fast for so many of them.  The May weekends especially.
It will be camping season before we know it!  Don't forget to check out the calendar of events on our site www.brightonkoa.com/events