I honestly can't believe it's the first week of December already.  The way this winter is going it's going to be Spring again before we know it.  Or maybe that's just wishful thinking….. !
Jason and Sabrina and I had a great time at the KOA Convention.  We got to spend time with other managers and owners which is always my favourite part about these large group gatherings.  The seminars and workshops are educational but it's the times we spend drinking and eating with other KOA peeps that really makes it worth it.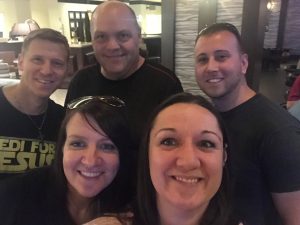 My favourite night out was spent with the staff from the Port Huron KOA who are all so fun and we went to this bar that had karaoke.  This was karaoke unlike I'd ever seen.  They had a live band so the person brave enough to get up and sign didn't just sign alone in front of a screen, the actually became the lead singer of the band.  I was so busy singing my brains out (from the back of the bar – not the stage) I forgot to take any photos or videos.  But honestly, it was the coolest thing ever.
This year was a little different than the first couple we've attended.  For one, we opted to leave the kids at home with my parents and just the two of us met Sabrina and her boyfriend in Phoenix.   The second major change was that the day before we were set to fly out I somehow managed to sprain my ankle really badly so it was either stay home or rent a scooter for the five days to get me around.  I couldn't walk at all on my foot for the first two days but luckily by opting for resting it instead of pushing myself it began to improve quickly.  Here's a photo so you can all laugh at me riding around like everyone else at the convention did.  Guesses on how many times people asked for a lift????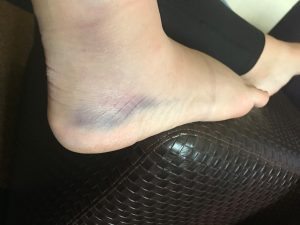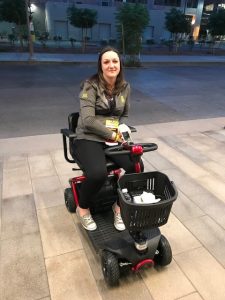 It was an honour again this year to be recognized for the Presidents and Founders Awards.  Both of these awards are available for every KOA to receive if they meet the criteria.  The first criteria is to score high enough on the quality review report.  If you reach above one score you qualify for Presidents award and if you score even higher then you qualify for both Presidents and Founders awards.
The second criteria is our Review Scores from the Rate Your Stay Surveys that are sent out after you check out each and every time you camp at any KOA.  When you get those surveys this is how the scoring works.  When you choose 9 or 10 on the section that asks if you would recommend this KOA to others, it increases our overall score.  If you choose 7 or 8 it is treated as neutral and we don't increase or decrease in score.  And if you choose 6 or lower it brings our score down.  The other part is the 1-5 star section of the Rate your Stay.  All the scores are added together and averaged to give us a score for that section.  If our total score of the first section and second sections added together is over 90 then we qualify for Presidents Award and if we are over 124 then we qualify for Founders as well as Presidents award.
The reason I'm explaining all of this is because the quality review portion of qualifying for these awards is all our responsibility.  The better shape we keep the park in and the more money we continue to invest in the campground, the better our score will be.  The second criteria is dependent on our campers and your responses to those surveys.     Without you all taking the time to give us your valuable feedback we couldn't qualify for those awards.  I am grateful for the comments as it gives me a gauge for what improvements are the biggest priority but I am so very grateful simply that you are taking the time to complete the survey's at all.  Those scores matter so THANK YOU.
My next blog post will talk about the new software that KOA has been designing to help make taking and managing reservations easier as well as discuss the rates management feature of said software.  Important news for all those wanting to be aware of what they are spending on camping and why.